Before air conditioning became ubiquitous in the U.S. people had no choice in the summertime but to head outdoors to find cooler air and shade in neighborhood parks. Today, the combination of AC and digital delights such as Netflix and Xbox make it too easy for families to spend June through August planted on the couch.
This variety of "family time" may not be that memorable with everyone glued to their own personal devices. The solution is simple: put down the remote and game controller and head outside with your kids for some outdoor fitness this summer.
Set the Example: Exercising Outdoors with Your Kids

Telling your kids to "go outside and play" is a great start … but parents should set an example and join them.
"Going outdoors gives you the opportunity to make your exercise time family time," writes Pete McCall, personal trainer and host of All About Fitness podcast. "There is nothing wrong with dropping your kids off at the daycare to take your favorite group fitness class but from time-to-time why not take the opportunity to exercise with your kids and show them that physical activity can be fun."
There are no wrong choices when exercising outdoors with your kids, with choices ranging from:
Playing at the neighborhood playground
Hiking on a local trail
Riding bikes on a path
Playing a sport in a park or open space
"I've found that when I'm feeling a little sluggish or run down, then instead of going to the gym and muddling my way through a workout, I'll take my kids to the local park and just simply play with them," McCall writes. "The extra bonus is that in a few years when they're too cool for their parents I'm always going to have the cherished memories of our little park workouts."
Outdoor Fitness with Your Kids Can Fight Obesity
In a country where 17 percent of U.S. kids are considered obese, outdoor fitness is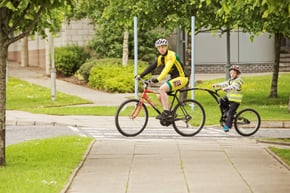 more important than ever.
"Childhood and adolescent obesity have reached epidemic levels in the United States, affecting the lives of millions of people," writes the authors of a 2019 Global Pediatric Health article.
According to the article, in the past three decades, the prevalence of childhood obesity has more than doubled in children and tripled in adolescents.
Kids are simply not exercising as much as they did in the past with the article citing research that found:
16 percent of kids walk or bike to school today vs. 42 percent in the late 1960s.
Only 13.8 percent of Elementary, middle, and high schools combined provide students with at least 4 hours of physical education classes per week.
Benefits of Outdoor Fitness with Your Kids
There are many benefits to outdoor fitness with your kids including:
Physical Health: Any exercise or play outdoors burns calories, builds muscles, improves cardio, and makes kids and their parents healthier.
Mental Health: Exercising not only improves your physical health but also your mental health as workouts can strengthen your mind and improve mental well-being.
Saves Money: Joining a gym or health club can be expensive but we can all work out at local parks and playgrounds for free. A bonus: you get to put your tax dollars to use!
Social Activity: Going to a park to exercise with your kids gives them an opportunity to socially interact with their community.
Be Creative When Exercising Outdoors with Your Family
Your family exercise time outdoors can be structured or unstructured.
All ages and ability levels can enjoy throwing and catching baseballs or softballs, tossing footballs, or kicking a soccer ball. Chances are, if you have a family dog, they will join in the fun!
McCall says you can create your own workout or use a park or playground fitness course.
"With a little creativity and imagination, you will find that you can replicate almost any gym exercise outside, especially if you live near a park that has a fitness course with workout stations for pull-ups, step-ups, push-ups and other bodyweight exercises," McCall writes.
Research has shown that fitness equipment at a park can not only increase the duration of sessions but increase the likelihood that the participants will return to work out again.
Churchich Offers Two Outdoor Fitness Solutions
For playgrounds, parks and community spaces in North Carolina and South Carolina looking to up their outdoor fitness game, Churchich Recreation and Design offers two unique solutions.
Both Greenfields Outdoor Fitness and TREKFIT offer creative, fun, and challenging fitness equipment designed to fit varying budgets and locales.
The Greenfields Outdoor Fitness durable gym equipment is designed with all ages and abilities in mind. The Greenfields line, popular with everybody from military members to senior citizens, includes:
Core Line: Outdoor gym equipment that uses the body's mass for resistance and is ideal for all ages and fitness levels.
Professional Series: Outdoor gym equipment that features hydraulic apparatuses which use bi-directional pistons with adjustable resistance for customized workouts.
Signature Accessible Line: Outdoor gym equipment that allows those in wheelchairs to work out alongside family and friends.
TREKFIT offers cutting-edge outdoor fitness equipment designed using high-quality stainless steel.
Some of the TREKFIT highlights include:
TREKFIT outdoor equipment can easily be placed in circuits or along trails.
A free TREKFIT app allows users to create workouts with the outdoor equipment, or even workouts on other accessible items such as benches.
Custom signs are included with TREKFIT outdoor equipment instructing users on how to use each apparatus according to different difficulty levels.
Contact Churchich today to find out how a Greenfields Outdoor Fitness or TREKFIT fitness and recreation equipment can create a memorable experience at your North Carolina or South Carolina park, playground or community space.