Churchich Recreation provides a bevy of playground solutions for your community and commercial properties. From exciting playground experiences and themed playgrounds for park areas including musical installations, we offer park structures and site furnishings.
In fact, there are few limits to what Churchich can create for your space! But keeping it clean, what are you going to do about that? Here are some commercially safe playground hygiene methods to protect those who come into contact with the playground equipment.
Germs on the Playground
Did you know playground equipment could be just as gross as a public restroom?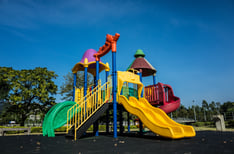 Since you have hands touching everything, it is essential to keep equipment sanitized and to offer areas for sanitation for patrons. But there are plenty of ways to stop the potential germ factory from spreading in the first place. Here are some suggestions for ways to promote health and cleanliness in a playground or on playground equipment.
Require Hand Sanitation and Provide Handwashing Stations
Signage should be posted requiring playground attendees to use hand sanitation when they get on and off of playground equipment. There should also be a sanitation station or hand washing station for children to use when they are finished in the playground. Public restrooms at parks typically serve this function for larger spaces.
Face Masks and Hand Gloves
Require patrons to wear face masks and recommend the use of hand mittens or gloves for children who are touching the equipment whenever feasible. This is especially good advice for parents of susceptible children who are more prone to get infections or to pick up the cold virus.
Promote Healthy Patrons Only
Also, post signs requiring all playground patrons who are sick, vomiting, have diarrhea, or a fever not to enter the playground area. While you may not feel simply posting a sign will do the job of protecting against the spread of germs, you'd be surprised. Most parents are going to set a good example for their children by following the rules when in the playground.
Provide Ongoing Maintenance to Playground Equipment
From here, it is up to you to provide cleaning services and maintenance to the playground on a routine basis. This helps to reduce the spread of germs and bacteria, while also ensuring all equipment is in good condition and safe to use. Broken chains and tearing fabric all pose a danger, as do rusty bars and busted slides. Repairing and replacing items as needed will also indicate which areas of the playground are getting the most activity and are most popular.
This can guide your decisions on how to conduct playground upgrades and expansions. You also reduce the spread of infection in the playground, which minimizes the chance your organization will be sued for not providing safe equipment. This comes into play with health and state agency inspectors who will also expect you to provide safe playground equipment if anyone who is in the public sector is using it.
Choose Churchich Recreation in NC and SC
Contact Churchich serving North Carolina and South Carolina in the Southeast. You can also call our office at 843-757-3156 to schedule a consultation or to request a free guide. We offer a complimentary Playground Surfacing Guide to help you compare costs and performance along with safety and maintenance services.