There was a time in America when you could go to just about any playground in any neighborhood in any city and find the same basic elements:
Swings? Check!
Jungle gym? Check!
Merry-go-round? Check!
Monkey bars? Check!
Sandbox? Check!
It seems that the job of playground designer in yesteryears was quite simple and, quite frankly, boring.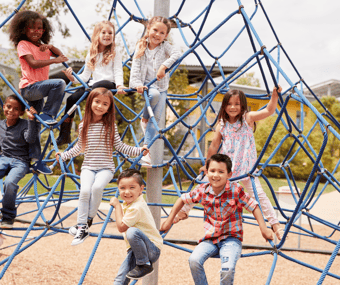 Today, playground designers not only have the basic playground elements at their disposal, albeit built in a much safer manner now, but they also have a myriad of themes they can choose from.
"You could design a traditional play space, stocked with basic slides, swings and other climbing equipment. But if you want to design a play space that engages children and keep their families coming back time and time again, designing a playground around a specific theme takes it to the next level," says Miracle Recreation.
History of Playground Themes
Children in the United States did not have access to playgrounds for the first 125 years of the country because the modern concept originated in Germany in 1885 with "sand gardens".
Soon after the first playgrounds in the U.S. appeared in Boston, and started to spread along the Eastern seaboard.
In 1906 the Playground Association of America was formed at the YMCA in Washington, D.C. to support and expand the playground movement.
Dr. Joe Frost of the University of Texas at Austin showed the development of playgrounds in his "The Evolution of American Playgrounds":
1880s-1890s: Sand Gardens -- simply sandboxes in lots next to buildings.

1900s-1920s: Model Playgrounds – typically tall apparatuses built with steel tubes, merry-go-rounds, and other twirling equipment.

1930s-1940s: Great Depression and World War II slowed development.

1940s-1950s: Adventures or Junk Playgrounds. First theme playgrounds included adventure and exploring through caves, over landscapes, building elements using found objects.

1950s-1970s: Novelty Playgrounds. Themes expanded to include rocket ships, slides, animal shapes, imaginative tunnels, and other shapes, still made of metal.

1970s-1980s: Standardized Playgrounds. Safety concerns led to a new generation of rounded edges and hard plastic equipment.

1980s-present: Modern Playgrounds. Dawn of imaginative playgrounds with safe surfaces, varying themes, and materials.
Benefits of Choosing a Playground Theme
"Build it and they will come" may have worked before, but in today's "TikTok world", playground designers need to think outside of the (sand)box to capture attention away from personal devices.
Benefits of choosing a playground theme include:
Encouraging children to use their imagination and creativity.

Engaging kids of all ages as themed playgrounds can target various age groups.

Free entertainment! Themed playgrounds can challenge expensive outings to the movies, sporting events, and theme parks for family fun.

Family time is encouraged with themed playgrounds – just do not be surprised if you are put to work in the galley of a pirate-themed ship that is being skippered by 5-year-olds!
5 Playground Themes that Kids Love
If you can dream it, chances are that playground manufacturers have already made it a reality.
The folks at Miracle Recreation have five favorites that children will also love:
Castle Adventures: Miracle's castle-theme panels allow children to storm the gates and challenge knights on the playground. Young Rapunzel's and Lancelot's will enjoy three ground level and seven elevated play activities.

Farmyard: Young MacDonald's can pretend like they have a farm with Miracle's barnyard theme that includes barn wall and barn window panels.

Nature: Miracle has playground theme options such as Grizz-Lee Bear Climber and Nature Bear Paw Climber With Rocks that will transport children deep into the woods, even if your playground is in the heart of the city.

Pirate Ship: Nautical themes have always been popular on playgrounds and today's young pirates still love to sail the seven seas without leaving town.

Transportation: Planes, Trains & Automobiles is not just the title of a funny John Candy and Steve Martin movie, but a theme that all children love. Cars, fire trucks, trains, and space shuttles will fire the imagination of children.
Out of this World Playground Themes
When it comes to choosing a theme for your playground, you can let your imagination run wild.
Consider these creative playgrounds around the country:
Watkins Regional Park in Maryland has a Wizard of Oz-themed playground.
Maggie Daley Park in Chicago has six playgrounds over three acres with six themes including: The Sea, The Watering Hole, The Harbor, Enchanted Forest, Wave lawn, and Slide Crater.
At the Gathering Place in Tulsa, children can play over seven acres with themes ranging from Land of the River Giants to Mist Mountain to Sky Garden to Swing Hill.
At Churchich we can help you unlock your imagination with our array of themed playground concepts.
Contact Churchich today to find out how we can help you create a themed playground in North Carolina and South Carolina.
References
https://www.miracle-recreation.com/blog/how-to-choose-a-theme-for-your-community-playground/
https://savingplaces.org/stories/how-we-came-to-play-the-history-of-playgrounds#
https://www.pgpedia.com/p/playground-association-america
http://www.scholarpedia.org/article/Evolution_of_American_Playgrounds
https://www.miracle-recreation.com/?s=castle
https://www.miracle-recreation.com/product/grizz-lee-bear-climber/
https://www.onlyinyourstate.com/maryland/whimsical-playground-md/
https://www.gatheringplace.org/
https://churchichrecreation.com/playgrounds/themed-concepts/