The church playground is both a recreational zone and an unofficial meeting place. It may be a play space for children of all ages or where the entire congregation gathers for family fun.
Thoughtfully designing the playground for your church is an essential task. One that should be shaped by your community, your beliefs, and the natural structure of your church lot. This article will address important factors that impact playground design at a place of worship.
A church has unique considerations for its playground. The playground can and should be an artistic extension of the church community while specifically addressing the needs of the entire congregation's youth. It should also consider the needs of parents and teachers, as well as the uses for outdoor enjoyment of the whole congregation.
Key Elements Of A Good Church Playground
Accommodating for All Ages
A good church playground is both fun and safe for young people of all ages. Church often brings together families from a wide variety of backgrounds and generations. Your teenagers will appreciate adult-sized swings and sturdy jungle gyms while toddlers are happiest with spinners, bouncy rides and sandboxes. School-age children love to play together, side by side or taking different routes to the same destination. And children of all ages enjoy making sounds and music.
A playground that accommodates a full age range is ideal for a church which is built to serve in any way it can.
Accessible for Handicapped Play
Part of serving all congregation members includes children who are physically handicapped. Churches are often the most ready to upgrade playground design to allow children in wheelchairs or with limited mobility to join in the play. For more on accessible playground design, click here.
Features Church Stories & Values
Playground designs are no longer one-size-fits-all. Unique designs featuring holy symbolism and stories from your scripture studies can bring the faith to life. A natural-styled climbing rock can become a holy mountain in their eyes. Spinning symbol blocks can reveal a riddle that scripture can solve. Musical features allow children to make a melodious joyful noise. A church playground can turn children's spiritual learning into a tactile experience.
Comfortable Shaded Seating for Church Events
Wherever children play, parents need a shaded place to sit. Benches and picnic tables near playgrounds is both a time-honored tradition and a great way to use your open field space near the playground. Every church needs somewhere comfortable for adults to supervise the play and host the occasional churchwide picnic.
Shaped to the Building & Environment
Finally, a great church playground works with the natural shape of the land, lot, and building. Playgrounds can be tucked into the crook of an L-shaped church or sprawl over an open field. Some have running tracks for active children and some flow smoothly into the nursery door.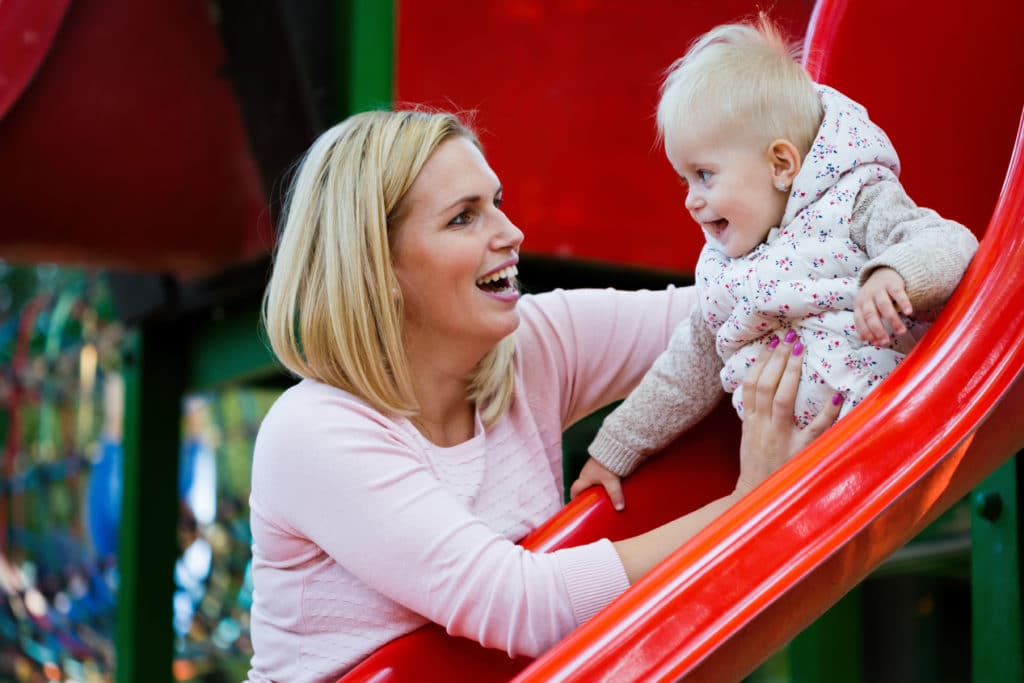 What Your Committee Should Consider
Church playgrounds are often designed by committee, working together to fund-raise and decide how to combine the key features of a great playground design. Here are the topics that should be addressed by your committee during the initial designing discussions:
Theme of Playground Design
Talk about what kind of theme would be the most meaningful and fun for your children. Turn your playground into an artistic addition to the church and bring the scripture to life with a themed playground design. You can incorporate natural rock and rope features, musical instruments, and special themed molds to your design to create an engaging spiritual play experience and a work of art for your community.
Age Range of Playground Visitors
Consider the wide age range of children in your community and how that may change in the future. Many churches choose to build a separate and/or indoor early childhood playground just for toddlers. This provides a safe place for the littlest kids while their older siblings get rowdy. For a wider age range, include a variety of features that will appeal to toddlers through teenagers.
Frequency of Use
The size of your playground should be determined by how many children you predict will be playing at once. Consider the size of your congregation and the way children gather at the playground. Don't forget to consider summer programs where many new children may come in for events, vacation Bible school, or a day camp.
Community Events & Diversity of Use
Next, think about how the larger community might also use the space. Shaded picnic tables can transform your outdoor fielded area into a place for community barbecues and outdoor wedding receptions. A track and sports courts can make a welcoming place for older youth and even lively adult congregation members to gather and play.
Lot & Local Environment
Consider the size and shape of your lost. Flat land is easier to work with but playground construction can also create level land if there is room. Your environment including the weather should also factor into the materials and designs you choose. Playgrounds that provide rain shelters, for example, may be more useful in warm rainy climates.
Materials and Surfaces
Consider the materials and surfaces you want to put to use. Whether you would prefer to use asphalt, or wood chips under the play area, whether you would prefer steel or aluminum parts. The plastic you choose for features and slides should be able to withstand the strongest weather your location experiences. Don't forget to take maintenance schedules and costs into account.
Monitoring and Security
Finally, put some thought into the security of your playground. Make sure to place seating where parents have a good vantage point to watch their children, and benches surrounding the play area. It may be worthwhile to install a fence if the playground is near a road or un-monitored lots.
—
Designing the playground for your church is a serious task, but one that your community will enjoy for decades afterward once the work is done. With these considerations, your community is sure to find the right design features for your faith, your space, and the needs of the congregation.