What is an Amphitheater?
An amphitheater (or amphitheatre) is an outdoor theater with a semi-circular, fan-shaped, or elongated auditorium facing a grass, masonry, or wooden stage. The historic amphitheater took its name from the Greek amphi, referring to the seating "around" or "on both sides" of a performance space. It was oval-shaped with steep tiers of seats surrounding a flat event space, as found at the Coliseum in Rome.
Today, amphitheaters are very similar to their predecessors, existing as open-air venues for musical and stage performances. They can be utilized for concerts and performances, or even be used municipal projects where cities can create a location for public performances, speakers, and gathering places for their community. Amphitheaters and large-scale shade structures have become popular among cities looking to develop their local economy with a venue for orchestras, bands, choirs, theatrical performances, and other community events like fairs.
Our Projects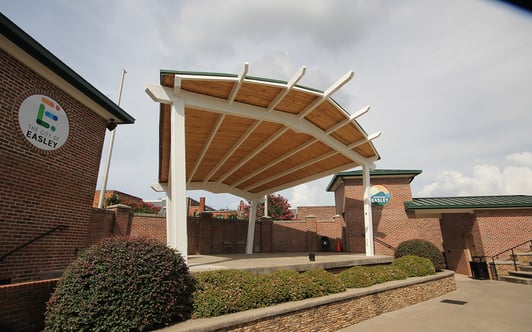 This beautiful Amphitheater structure was made and installed for the City of Easley, SC. This recreation solution includes a Poligon shelter, turnkey installation including demo of the stage to provide proper footings for the shelter. The shelter required a matching green roof to the existing structures so that it blended in seamlessly.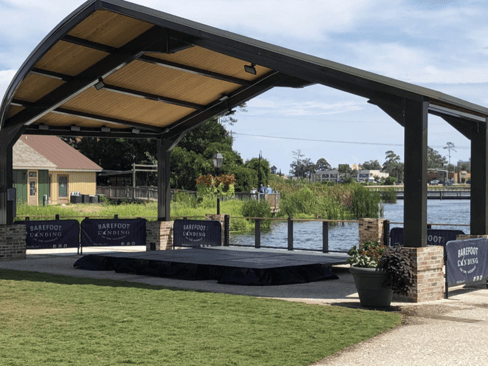 Churchich Recreation created the new Barefoot Amphitheater, which is located in Myrtle Beach, SC. This project is a Poligon amphitheater with tongue and groove inside ceiling and metal roof outside, attached to existing pier on the water. It provides a weatherproof cover for a new outdoor concert and arts facility.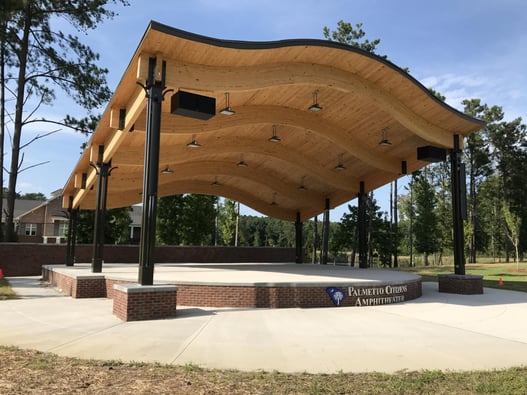 Doko Meadows Amphitheater is located in Blythewood, SC. This outdoor park was in place with a stage and no cover for several years, and Churchich wanted to create a solution for them! The city wanted to have a more permanent structure with lights and a sound systems for plays and concerts – so we provided a Poligon Wave amphitheater, pre-engineered with a beautiful tongue and groove roof under a mega roof along with custom quad columns.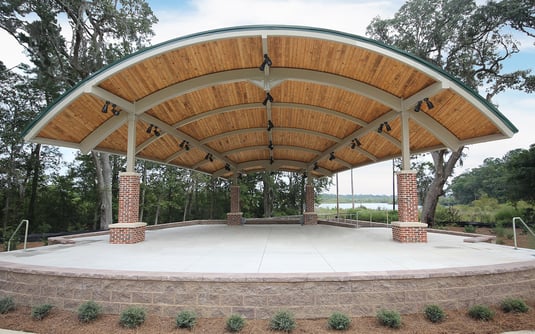 The new amphitheater is part of the Hanahan City Park development in Hanahan, SC. The theater, featuring the curved shelter from Poligon, fits seamlessly within the landscape of the park. Churchich Recreation & Design provided the Poligon structure, specified by Seamon Whiteside & Associates. This beautiful structure hosts free events to the public.
Considering an Amphitheater?
Amphitheaters can come in a variety of shapes and sizes, but they have one thing in common: they exist as areas for shared community experiences and lifelong memories. Churchich Recreation amphitheaters can be customized to fit in with any landscape or acoustical setting.

Churchich Recreation & Design provides start-to-finish amphitheater design and construction services to match the needs of your custom project. Contact us today for a quote.