Kids love to run around and play; but being able to run around and play together is always more fun than playing on their own.
It is every parents dream to reach the day when their children will begin finally playing together. For parents with kids who have age gaps, this day is one worth celebrating. Whether your children are one year apart or three to four years apart, it is possible to find activities for them to do on common playgrounds where they can keep one-another occupied and engaged with one another. Playgrounds and parks that offer age-inclusive options are the best solution for families of all shapes and sizes.
What are Age Inclusive Playgrounds?
Kids play in different ways as they age. As kids get older they are ready to explore in new ways, and their physical limitations change in ways that make them want to try out new types of playground equipment. The best playgrounds are those that have multiple components that keeps kids of all age ranges in mind.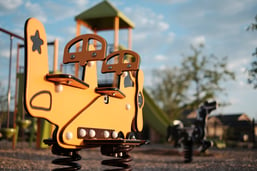 This includes:
Low to the ground equipment designed with safety in mind for toddlers and kids up to age 4 or 5.

More complex features that may involve climbing or scaling, like ropes, decks, or slides, for kids 5 and up.
Benefits of Age Inclusive Playgrounds
Age inclusive playgrounds are designed to cater to kids of all ages and sizes, which means that families and friend groups of all dynamics can utilize the park. Being mindful of this form of inclusivity is beneficial when you are looking to maximize the amount of people who will take advantage of your park facilities.
Benefits of an age inclusive playground include:
More people will be able to utilize the playground, since it can accommodate young parents and parents with older kids.

Families who have siblings with age gaps will feel comfortable taking their kids there.

It's more convenient for parents and a more safe solution since parents won't have to split their attention.

School and church groups who have a more diversified age group of kids can also take advantage of the park.
While some playground designs will separate playgrounds for younger kids from playgrounds for older kids, this doesn't encourage kids to play together and could cause a parent to feel like they need to split their attention. Building a playground that can accommodate kids of all ages is a much better solution.